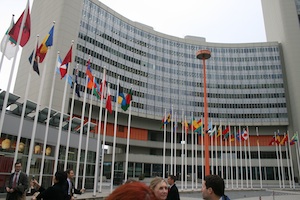 Between November 11 and November 13, 2012 the Project on Strategic Stability Evaluation (POSSE) held its annual meeting at the Vienna Center for Disarmament and Non-Proliferation (VCDNP) in Austria.    Under a grant from the Carnegie Foundation of New York, POSSE is building a global network of some of the leading young scholars who are moving beyond concepts about nuclear weapons inherited from the cold war.
The program brings together promising advanced graduate students and young professors from the United States, Russia, China, India, Pakistan, Israel, and France to analyze alternative frameworks and methodologies for re-thinking the requirements for strategic stability amid deep reduction in standing nuclear arsenals.  It also seeks to engage academics in the policy debate over the wisdom and modalities of pursuing visions and steps towards deep reductions, including nuclear disarmament.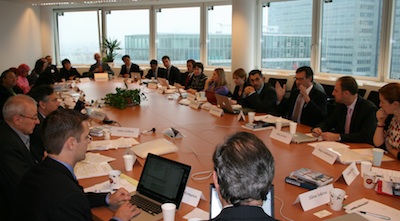 For the Vienna POSSE VI workshop, each POSSE scholar wrote a draft paper that they felt was relevant to either their country specifically or to the global debate on nuclear weapons more generally.   We hope that through the review process provided by POSSE that each paper will ultimately be published.  
Each POSSE member also drafted a short policy memo that extracted the policy implications of our their draft paper so they could be presented to the policy makers who the POSSE members were meeting with in Vienna.   
The POSSE VI Draft Papers were reviewed by distinguished senior reviewers including Patrick James (University of Southern Carolina),  Alexey Fenenko  (Institute of International Security Studies of Russian Academy of Sciences), Jeffrey Lewis (CNS-MIIS), and Heinz Gärtner (the Austrian Institute for International Affairs).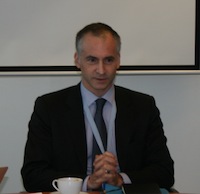 POSSE had the honor of hosting Dr. Christophe Carle (pictured on right) from the Director General's Office of Policy at the International Atomic Energy Agency (IAEA) and Tariq Rauf (formerly with the IAEA).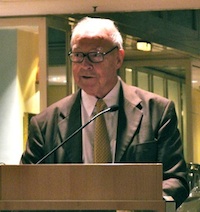 The POSSE members were also addressed during the workshop by leading diplomats and scholars including Hans Blix (Sweden, pictured on left), Rüdiger Lüdeking (Germany), Ole Reistad (Norwegian Institute of Energy Technology), Alexander Kmentt (Austria), Alfredo Labbé (Chile), and Khaled Shamaa (Egypt).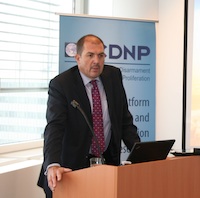 Finally, the POSSE delegation meet with Mr. Jean du Preez (pictured on right) of the CTBTO which was followed by a tour/briefing of the CTBTO Operations Center, the Rooftop Lab & Radionuclide Station, the Wavelength Analysis Station, and the Radionuclide and Noble Gas Data Processing and Analysis Station.